CATERING
CATERING AVAILABLE UPON REQUEST
We Curate to use Fresh, Seasonal & locally sourced Produce & Herbs of the best quality, from all over the world!
All our dishes are Electric Vegan, Afro-Vegan, Vegan, Vegetarian, & Gluten-Free!

The menus shown are some of our most popular Alkalizing Foods and what we offer for Car-Side Pickup, or Exodus Alkalizing Juice Truck. However, my Team & I will customize delicious and innovative menus with Palates to meet your budget, taste and needs. Taking exceptional care of organizing all the details for any kind of event you want. From Coffee Breaks, Business Gatherings, Intimate Dinners, to large scale events, Family Gatherings, Holidays and Cultural Events!
To Schedule a Consultation click the CONTACT US tab in the header of this page.
NOTE: All Produce used will be from "The Electric Food List" and we also offer Pescatarian & 80/20 Vegan options.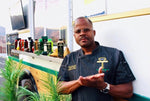 "The Electric Food Chef"
Darren "dp" Price
Owner and Founder of Exodus Alkalizing Juice